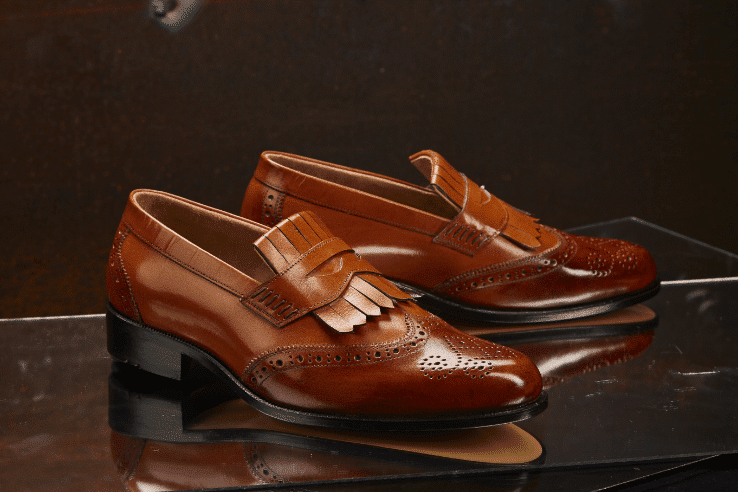 We are pleased to announce that as of March 2023, Germanicos Bespoke Tailors is offering custom-made, handcrafted shoes in all of our locations across the country. Our shoes are handcrafted by experienced artisans who use traditional techniques to create truly unique shoes.
At Germanicos Bespoke Tailors, we believe that shoes should not only look good but should also fit perfectly. That is why we take the time to measure your feet, ensuring a perfect fit. We offer a choice of over 40 leathers, including burnished leathers, and can make all sorts of shoes, from oxfords to boots, for both men and women. However, please note that we cannot make women's shoes with heels.
As we are bespoke, we can design almost any shoe design you desire. If you have an image, we can duplicate parts or all of it, making your dream shoes a reality. And to make your shoes even more exclusive, we can laser your name into the sole of the shoe.
We offer a variety of different soles, including leather and rubber, so you can choose the one that suits your needs. And for added comfort, we use soft lambskin in a variety of vibrant colors for the inner lining of the shoes.
Our bespoke hand-made shoes are the perfect choice for anyone who wants shoes that are unique and perfectly fitted to their feet. They are ideal for special occasions, such as weddings or other formal events, as well as for everyday wear.
So why not visit one of our Germanicos Bespoke Tailors locations and let us create the perfect pair of shoes for you? With our bespoke service, you can be sure that your shoes will be one of a kind and will fit like a glove. And with our range of materials and designs, you can be sure that you will find the perfect shoes to match your style.
In conclusion, we are thrilled to offer bespoke hand-made shoes at all our Germanicos Bespoke Tailors locations. Our commitment to quality and attention to detail ensures that you will receive the finest craftsmanship and the perfect fit. Visit us today and discover the difference that bespoke can make!