Create your own masterpiece

An experience like no other

Create your own masterpiece
Create your own masterpiece
Shoes
After several decades of experience and success with our Bespoke suits, Germanicos now enters the Bespoke Shoe market to not only complement our beautiful bespoke suits, but to bring quality craftsmanship and unique flair to Australia.
We were bewildered not only ourselves, but our customers who could not find a quality shoe in Australia bar a very limited range compared to the rest of the world.
LEATHERS & STYLING
The fit is the most important part of a bespoke shoe. They must not only be comfortable to wear, but they must fit shape correctly to the shape and width of your feet.
Both feet are meticulously measured in house by our highly trained staff, as it's very rare that both feet are ever exactly the same and each shoe is made to its measurement.
From the measurements each part of our shoes are made the traditional way by hand. Your Last is shaved and caulked by hand to replicate your foot shape and size exactly. Once this step is complete your different materials are sourced and your pattern is hand cut according to your measurements and style to be shaped over your very own last. The sole is then hand welted maximising the stitches per centimeter to give us even more durability as well as being easily replaceable for longevity.
It will take between 4-5 weeks to hand make your perfectly fitting bespoke shoes ready to wear. Upon delivery a magical encounter awaits you as you breathe life into your new bespoke masterpiece and they become a part of you.
Read more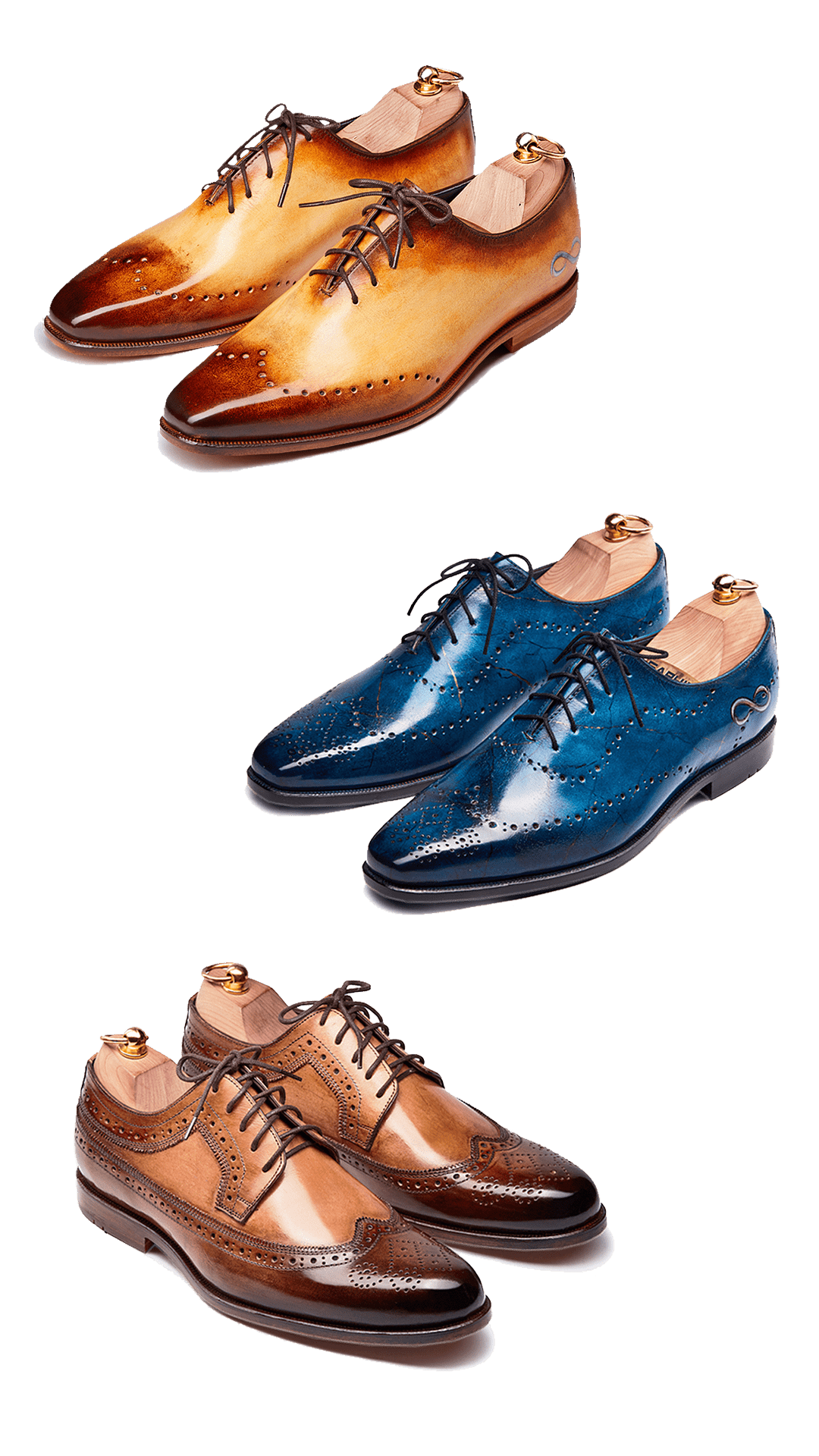 We Look forward to making you look and feel a
Million Dollars
LEATHERS & STYLING
With hundreds of options in leather to select from, our design & customisation options are endless just like our suits & shirts. Our customers can now choose from the huge variety of leathers derived from cow, calf, sheep, emu and even more exotic leathers upon request. Whether it be for a formal dress shoe or a casual sneaker our range is fantastic and sure to impress you.
There are a multitude of styles to select from especially when it comes to our Patina range. Our one of a kind hand painted Patina masterpieces that give a unique rustic look and finish, as well as an unsurpassed elegance and uniqueness like no other. Our Patina range are all works of art, painted by hand by our own master craftsmen and can never be replicated 100% as each pair is slightly different to the next, making them a work of art.
With over 100 colours available in our leather and fabric swatch books; from matt to high gloss, canvas to suede and many lining options in fabric & leather to select from to get the most comfortable fit.
Our highly trained stylist will assist you every step of the way throughout the design process to make sure you style a shoe that will not only complement your suit but complement your style and personality no matter what you decide to wear them with.
Every part can be customised, from top leather to inside leather to the sole (Monogram option available with laser scripting on the sole except when a rubber sole is selected).
We Look forward to making you look and feel a
Million Dollars