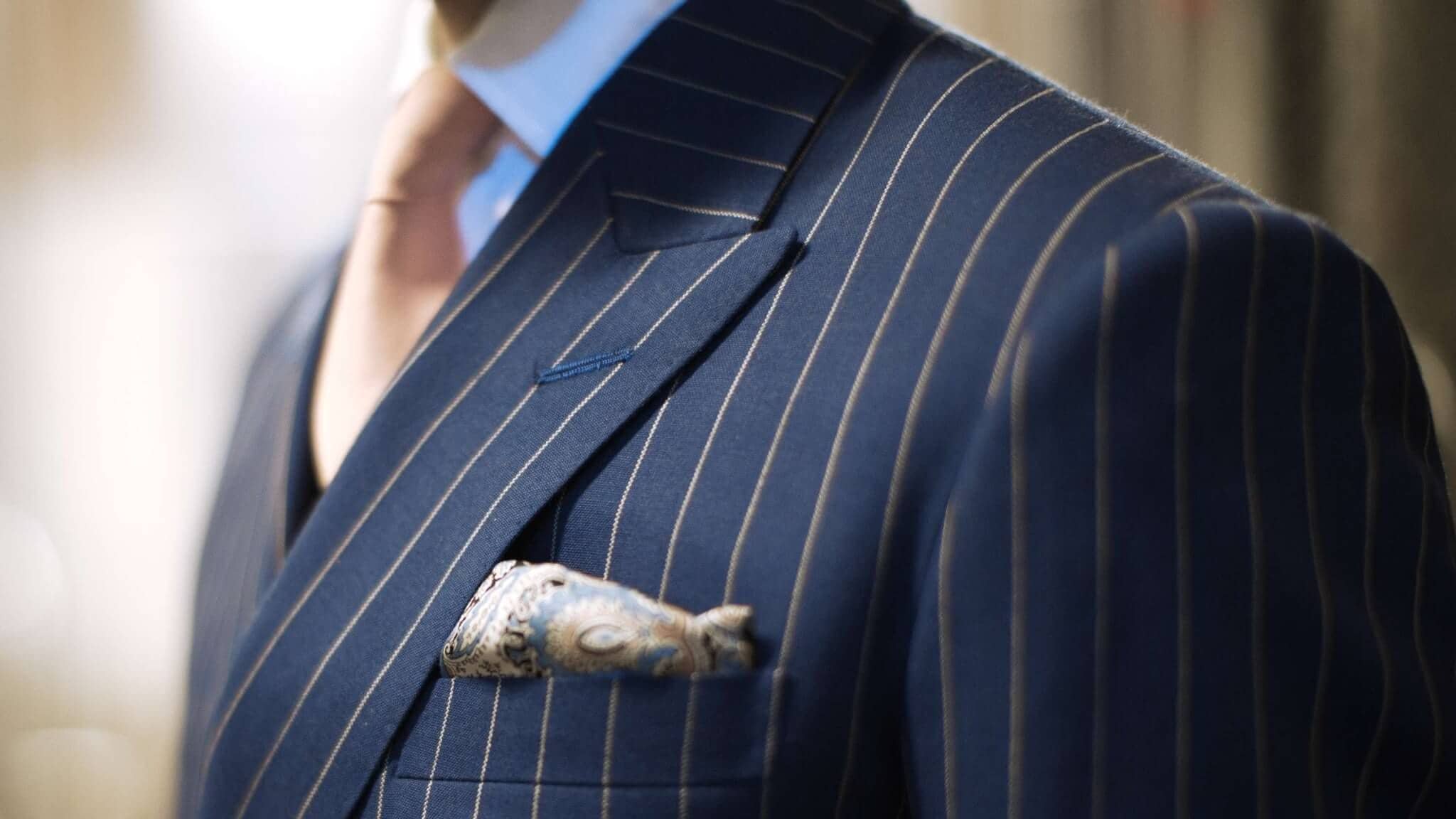 OUR PROCESS
---
1

Stylist
1

Stylist

Upon embarking on your journey with Germanicos bespoke tailors, you are exposed to thousands of possibilities of luxury fabrics and endless design options. For some this step is daunting, however, with over 20 years of knowledge and experience at your fingertips from our master tailors and stylist, you will find it hard to find more experience elsewhere. Better still this process is very enjoyable and it all comes FREE.

You are guided through each step of our styling process, thanks to our state of the art 3D technology software that we have invested in since 2012.

We pay close attention to your full requirements with our unique leading questions, to make sure the correct fabric weight, composition, as well as design features are selected for your bespoke suit to serve you like no other.

Our key objective when styling is to hide any flaws and accentuate the good features. Yes, we all have them! For the tall & skinny man, we want to add mass. For the pot-bellied man, we want to look slimmer and still be able to do the button up. For the disabled man in a wheelchair, to have a suit that is easy to put on and looks great as it stays in place. For the short man to look taller. They all need their own unique styling techniques to achieve the best fit & look, and we have them all at Germanicos.

This is also where an old craft meets new world tailoring with our automation and state of the art 3D styling technology and visualisation tool that now makes it easier than ever for our customers to visualise the end product before we even commence. Not only is the design of the suit key to complement each individual body shape, but the design needs to suit the fabric selected.
2

Measurements
2

Measurements

With over 30,000 clients measured since our inception in 1999 all with their own unique pattern, we pride ourselves on our accuracy when measuring to achieve the best fit possible. There is no such thing as an odd body shape at Germanicos. Whether you're tall and skinny, short and round, big & musically, pot-bellied or disabled, we understand no one size fits all and each body shape needs to be measured differently to achieve a perfect fit.

With our very own unique set of 40 to 45 measurements, this is the most in depth process you will experience compared to any other tailor you come across. The knowledge and experience from your very own personal tailor that will not only educate you along the way, but will ascertain the best fit for you based on all the leading questions you are asked during our measuring process.

A true master tailor takes many years to perfect the art of measuring as different body shapes, fit and styles all need to be measured differently to match a precise fit and surpass any garment you have ever worn.

Many others put little emphasis towards measurements and a lot of the time have a novice measuring, as they are a made to measure tailor and don't make patterns or they try to make up for poor fit through the fitting process.

At Germanicos, we're able to create a thorough blueprint for each client with a perfectly added algorithm of ease to begin your pattern as we take measuring to a whole new level.

By measuring over 30000 clients in the last 20 years, we've perfected our measuring process through so much experience.

You will feel at ease as your measurements jump out of a tape measure and sing to a true craftsman. A beautiful tango unfolds before your very eyes as your own personal tailor dances with the tape before you, and gives you an experience like no other.
3

Pattern Making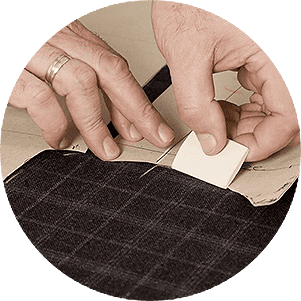 3

Pattern Making

Being true bespoke tailors the pattern making process is the most important part of the whole process, likening this to how important it is for an architect to draw clear and precise drawings for a building.

This is the biggest difference between a Germanicos suit compared to our competitors and a main difference between a bespoke suit and a made to measure suit.

We spend a whole day hand drawing and working on your patterns for your tailor made garments. If the drawings are clear and precise at the start, the rest seems to fall into place as it all fits in perfectly.

It takes years of experience to even be able to measure a tailor made suit correctly and look for parts of the body that we need to conceal so we can complement the body at hand, merely by manipulating key measurements to work in our favour.

However, it takes even more experience to perfect the pattern making process. Each person that walks through our doors is a different shape and unique in their own way, not to mention the requirements in fit are completely different for each individual person. There is no one size that fits all.

The biggest benefit once your first bespoke suit is fitted and delivered, is that we now have the perfect pattern for you moving forward that is stored digitally with our state of the art software and not just a set of measurements! Once we have your perfect pattern stored you will be given your own log-in credentials to our state of the art styling software to process an order at your leisure, all while knowing the fit is going to be just as we left off on your previous garments with your very own pattern.

Many other tailors will tell you once they have your measurements you can order as many garments as you like. Contrary to popular belief, we couldn't disagree more! If we give the same set of measurements to the same tailor a week apart, we can pretty much guarantee that the result will be slightly different to where you left off with your last garment and you will find yourself back at square one at your first fitting.

It's not so much the measurements that matter but more so the beautiful way a master tailor curves the line from point A to B to fit the human body and the degree of that curve that ultimately matters to sit perfectly. Now all of a sudden when purchasing more garments, it becomes much quicker and easier as we have already perfected your fit throughout your fitting process and we now store your very own pattern with all the curves ingrained in your pattern for any future orders.

The relationship you build with your own personal tailor over a lifetime is like no other especially once your pattern is perfected.
4

Fittings
4

Fittings

Unlike many other tailors, there is no limit on the amount of fittings we conduct at Germanicos to be able to achieve our perfect result. We will have as many fittings as necessary to make sure all of our clients leave our door proud wearing a bespoke suit that fits them perfectly and that commands compliments.

During your fittings, your comfort is of utmost priority as we ask you very particular questions to understand your true feeling. Traditional tailors chalk is used for precise markings for any adjustments required and discussed to achieve our desired result.

With our knowledge of fitting thousands of people over the past two decades we have really refined our fitting process and limited the amount of fittings necessary, while still achieving our perfect result than what was previously required with bespoke. It was purely refined to fit in with the schedule of the modern day man where time is precious.

At Germanicos, the fit of our suit is paramount. No amount of fine cloth will make up for poor fit no matter how much you paid for it.

Our old world craft again meets our new world automation as everything is recorded digitally using our state of the art software system, where our tailors can still visualise the garments on you even when you're not present. Again limiting the amount of fittings previously required with traditional bespoke tailoring as it's like you are there every step of the way.
5

Fabrics & Inner Materials
5

Fabrics & Inner Materials

We're proud to have by far the biggest range of fabric in Australia that you can actually visualise in a finished garment using our state of the art 3D application. We're also proud to have exclusive fabrics in house from the world's top mills only available at Germanicos, coming from mill houses such as Dormeuil, Zegna, Holland & Sherry, Drago, Giovani Tonella and Cerruti to name a few.

No more is Australia behind in the fashion scene receiving fabrics 1 or 2 years after they have been realised in Europe & North America. At Germanicos this is immediate and we receive all new fabric collections at the same time as they are released to the rest of the world, meaning you have access to the latest fabrics & technology at all times.

For different climates, different weight fabrics and compositions are all taken into account. Although we have the biggest range of fabrics, our tailors & stylist will only show you the certain fabrics bunches that are conducive and within your budget. Whether you're in Melbourne, Sydney, Brisbane, Perth, or Canberra there are specific fabric bunches with weight & composition selected to get the most breathability as well as longevity for your climate.

Using a beautiful fabric alone is not enough to give your garment true longevity. Nor is just great craftsmanship. A lot has to do with the inner construction and the materials used on the inside that truly give your jacket, structure, longevity and breathability.

The front of our jackets are constructed with a full floating canvas. Every stitch is meticulously hand sewn with precision in key areas to allow the jacket to shape and flow with your natural body movements and to guarantee our jackets never lose their shape and look just as good in 10 years as they did the day you bought it, if well taken care of.

Our canvases sourced are made with all natural fibres mostly made of horsehair & plant fibres. There are quite a few different weights of canvas that your master tailors will select for you, keeping in mind the weight of the cloth and any special requirements.

A quality lining such as Bemberg is used within all of our suits which are the most breathable linings available. Once again making your bespoke garment comfortable to wear in any climate as you won't feel hot and sweaty.

Off the rack suits and cheap made to measure tailors use a man-made substance on the inside of the jacket to give it the body it needs which is called fussing or interfacing. For the lining an acetate is generally selected or a very cheap silk lining, which again is not breathable. You may as well wear a plastic bag as you will feel hot and sweaty no matter the climate, not to mention it will look 10 years old after a few dry cleans and ready for the bin within a year or so.
6

Craftsmanship & tradition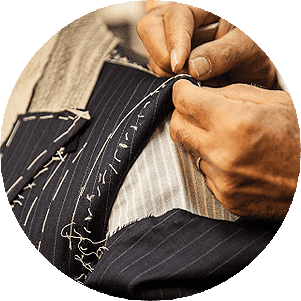 6

Craftsmanship & tradition

From measurements, to pattern marking, to stitching your suit together, each and every stage is done by hand the traditional bespoke way.

It takes a lifetime to become a true master tailor as one never stops learning different techniques and methods to be able to fit all different types of body shapes.

We guarantee all our work and give our clients peace of mind that even after delivery, Germanicos is only a phone call away if any adjustments are needed to refit garments even up to a 10kg difference from where we may have left off.

The ultimate reward for a master tailor is a smiling customer walking out the door feeling proud and acknowledging their true workmanship.

It's more than just keeping an old craft alive at Germanicos. It's the freedom of expression creating some of the finest suits available.
7

Lead times & Delivery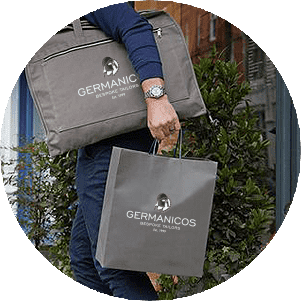 7

Lead times & Delivery

We're proud to be known as having the best turnaround times in Australia. Our whole process from start to finish including fittings is between 4 to 6 weeks thanks to our automation and state of the art software. It can also be done quicker on an express service if you need it guaranteed in less than 4 weeks.

As we have our own full in-house team in every department, we're in total control of every step of the way that allows us, together with our automation and streamlined processes to achieve these lead times.

Upon your final fitting and given our final eye over, your suit is pressed and packaged into a breathable canvas garments bag ready to be transported.

That's not if you're not wearing the suit leaving our door which is generally the case for most!

Care instructions on dry-cleaning are also given upon delivery and can vary based on the fabric used for each individual suit.

Voila! Not only have you got the perfect fitting garment to take home, but a great experience that will be with you for a lifetime.
We Look forward to making you look and feel a
Million Dollars