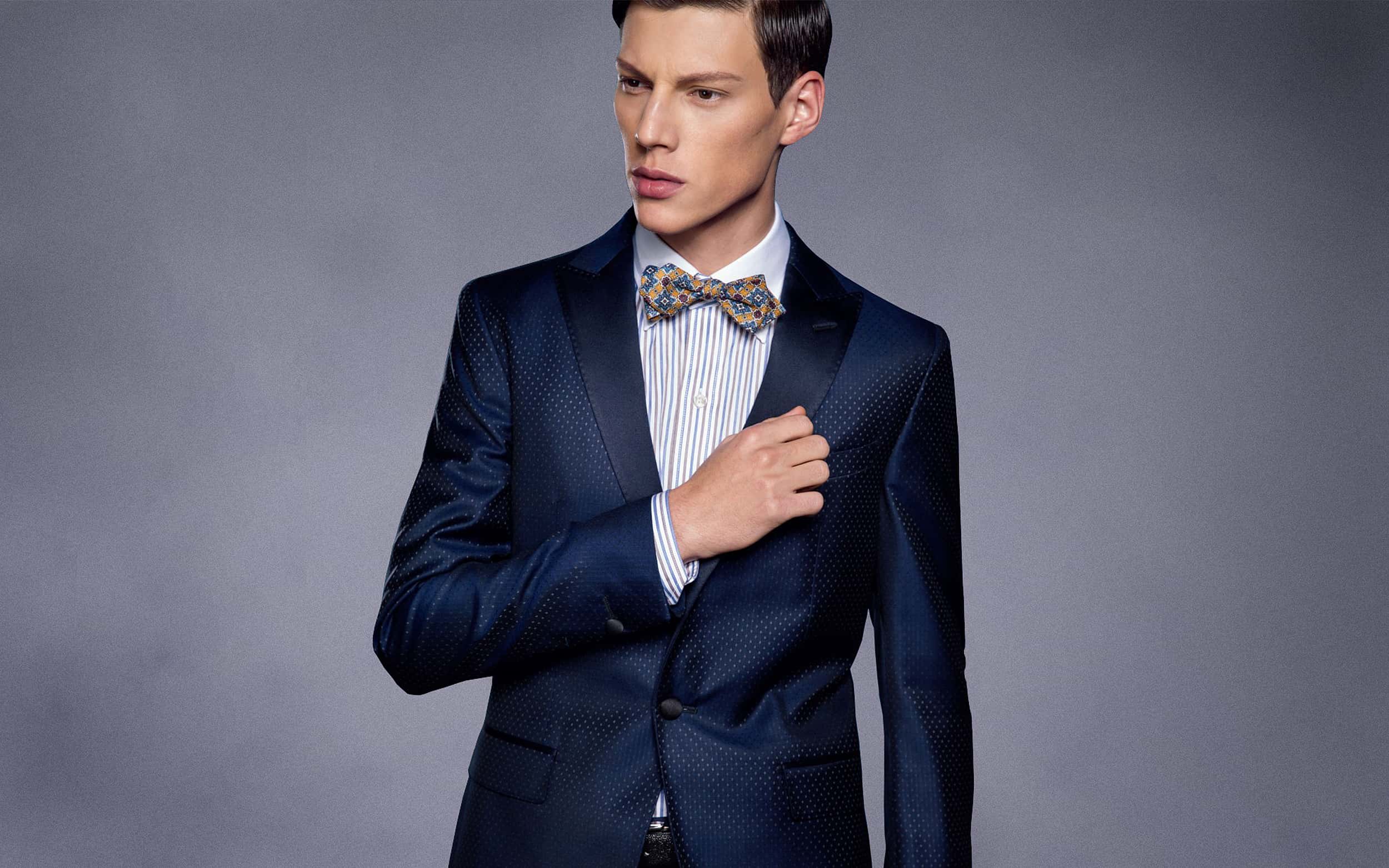 BESPOKE SUITS
There are a number of ways of interpreting the word 'bespoke' when it comes to suit tailoring. However, common to them all is the understanding that excellence of fit and choice of the suit (cloth & specification) are the objective. When a gentleman wears a suit uniquely tailored for him he gains confidence and calm. This happy state is achieved after a period of consultation with the tailor who skillfully blends his judgment and artistry with the rules of fashion and tradition. Interpreting the client's needs is almost his greatest skill, indeed there is a saying that a tailor should fit the head not the body: first the man, then the suit.
The fit of a suit is paramount. No amount of fine cloth will make up for poor fit. The attempt to get the human figure with all its varying shapes and sizes to look good in the ten off-the-rack suit sizes is a triumph of marketing over reality.
No man is 'standard', so it is strange that people are satisfied with a standard fit for their suits.
For more than a few, the skills of a tailor can make a dramatic improvement to the fit of a suit. A well-fitted suit enables the sort to appear (and feel) taller, the young older and even the shy extroverted.
More practical benefits can also accrue from bespoke suits tailoring. The quality of cloth used is frequently superior to the ready-made alternatives. And of course of construction techniques bear no comparison. Furthermore a suit, cut to fit correctly, will last longer than its ill-fitting counterpart. In addition to these benefits, it will be a pleasure to order your suit with your tailor. In particular, you will enjoy the ability to specify personal preferences such as the position and type of pockets, lapels, vents, buttons, pleats and so on.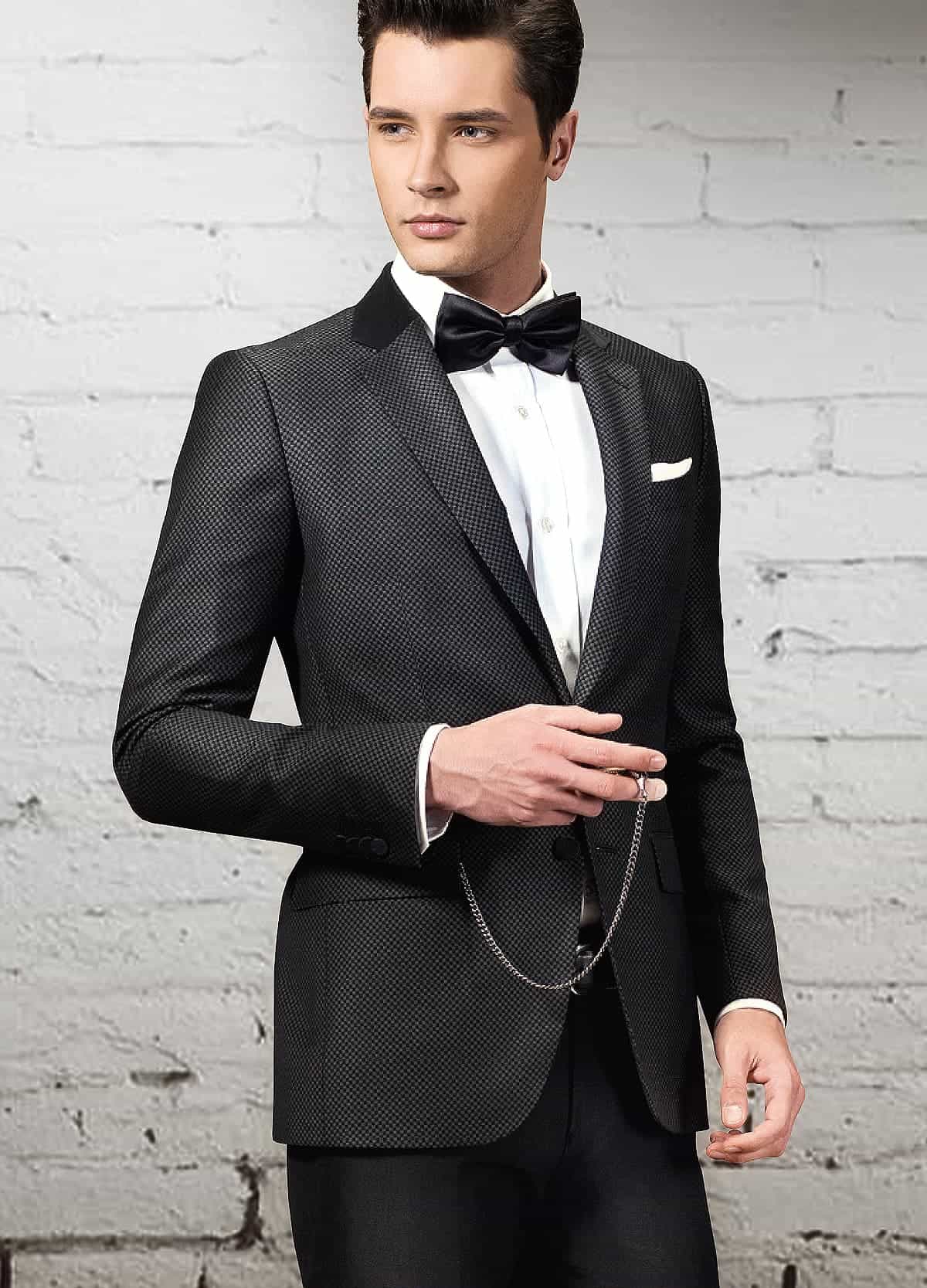 Bespoke Suits
The Bespoke suit is truly one of a kind and an experience every gentlemen should experience in his life. Every bespoke suit is different, a unique suit pattern is hand drawn by our Master Tailors according to your measurements and suit style chosen. We will then cut the fabric for your bespoke suit, the good news is that Germanicos has tested the fabrics over the past 15 years which enables us to advise on the best fabric for your city's climate, your corporate field or formal function and body type. Germanicos has built strong relationships with the world's top fabric mills such as Dormeuil in England. Our master tailors will advise on the best bespoke suit style and fabric for your body type and skin complexion, ensuring you will look phenomenal in your new Germanicos bespoke suit.
Bespoke Jackets
Each bespoke jacket is completely hand crafted by our master bespoke tailors. The front of the jacket is constructed with hand sewn floating canvas. Every stitch is sewn with precision. An exquisite hand sewn pick stitch highlights the pockets and lapel. There are functional buttons on the sleeves a must for a bespoke Jacket. If requested, the jacket can be made without a centre back seam, adding to the level of exclusivity of true bespoke. Inside the jacket sweat guards protect the jacket during strenuous activity. Various pockets line the inside of the jacket allowing the jet-setting gentleman to carry pens, business cards and his cell phone without worry. A hand sewn pick stitch along with piped seams also underscore the inside of the jacket, their colour contrasts the suit fabric. No detail is over looked as even the clients name is custom embroidered inside the jacket as well.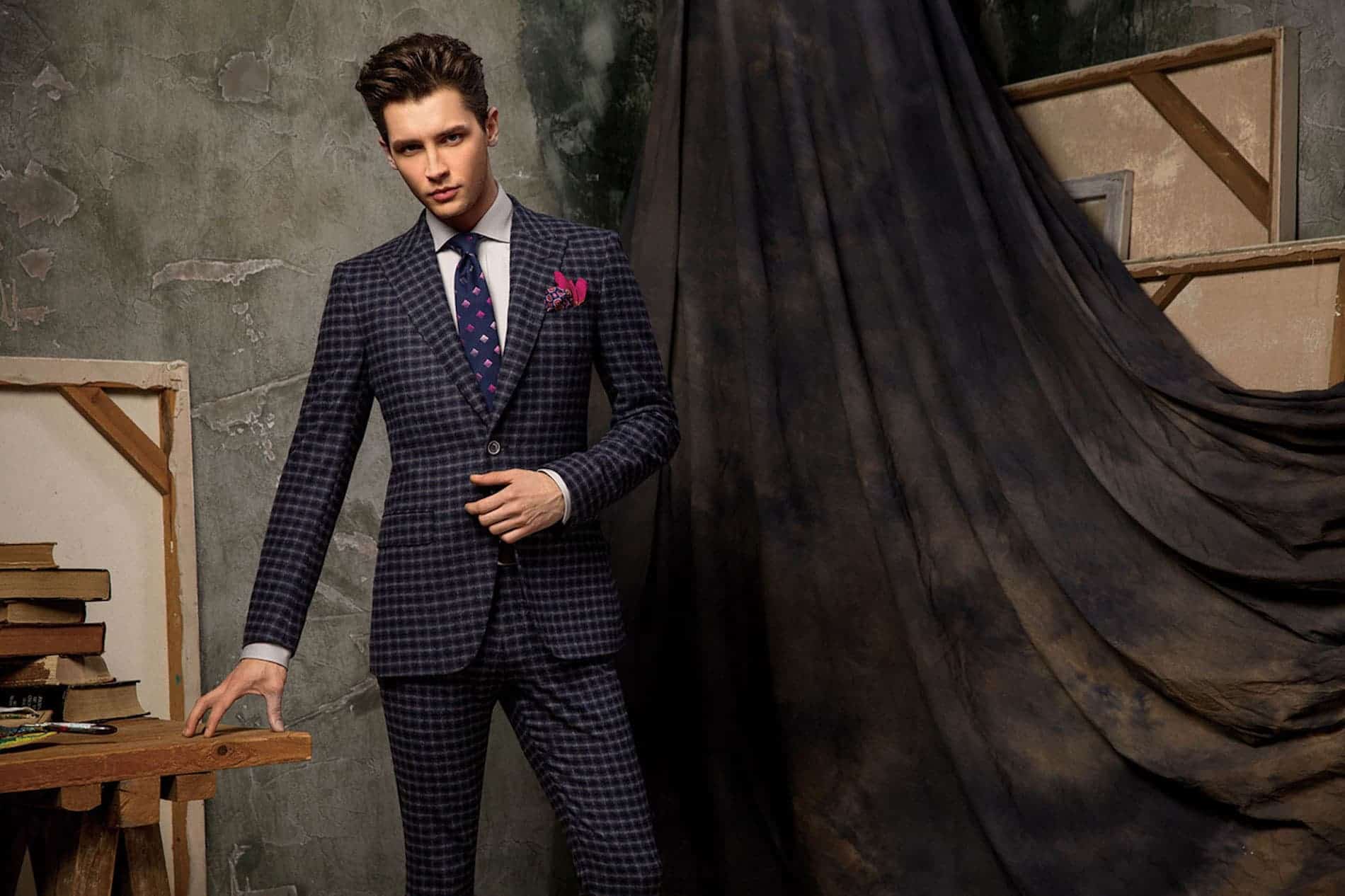 Bespoke Trousers
Our bespoke tailor made trousers are a magnificent combination of style and comfort. Distinctively styled belt loops hand sewn under the waistband, deep, full pleats, and lining that comes to the knee are the details that come to mind when one thinks of a bespoke garment. Every waist band is also lined with a special rubber strip to keep shirts smartly tucked in, an essential for the well heeled on the go. The hems of our bespoke trousers are finished with a silk strip, which eliminates fraying and also weighs the trousers to sit nicely over the shoes. It has been said that form follows function, and Germanicos Bespoke Tailors suits follow that axiom. We bespoke tailor make suit trousers for the man that desires to wear luxury without exception.
The best fitted tailor made suits for any body shape
The tailor made suit is the outstanding highlight of any gentleman's wardrobe. Your tailor made suit will be the single best fitting garment you own, which looks nicely fitted but still gives you the freedom to move and feel very comfortable in.
Your Germanicos tailor made suit will have an impeccable fit because Our master tailors will take between 25-30 measurements based on your body type and suit style chosen.
From this we will spend a whole day working on your patterns for your tailor made suit, for us this is the most important part of the process, likening this to how important it is for the architect to draw clear and precise drawings for a building.
If the drawings are clear and precise the rest is pretty easy and it all fits perfectly, bear in mind it takes years and lots of experience to even be able to measure a tailor made suit correctly and look for parts of the body that we need to conceal or make look better with our suits.
We at Germanicos view this emphasis on pattern making our key differentiator with our competitors in tailor made suits, because time after time we achieve outstanding results in the look, feel and fit of our tailor made suits. Your body shape doesn't matter we achieve the highest quality fit that any client of ours could dream of.
Not only will you own the best suit in your office, but we assure you that you will be getting many compliments on your new tailor made attire. We welcome you to try a Germanicos tailor made suit, we know you will be amazed at your decision.
We Look forward to making you look and feel a
Million Dollars
FAQ Your Right To Know!
Got a question? Get your answer!
: Where to get Bespoke suits ?
: You must go to a true bespoke tailor, apart from Germanicos being the only national Bespoke tailor, there are only a few other Bespoke Tailors left in both Melbourne and Sydney. Unfortunately Brisbane, Perth, Adelaide and Canberra don't have any bespoke tailors left doing the craft other than Germanicos, only some made to measure services, made in Asia. Which is a far cry from true Bespoke.
: Who wears Bespoke Suits ?
: Men who crave nothing but the best and finest suits money can buy. The feeling of confidence, high self-esteem and importance you feel in a Bespoke Suit is second to none. Those that wear them get many compliments and are generally the best dressed in the room. They are also savvy, as they know a bespoke suit outlasts an off the rack suit by 10 times, as such the Bespoke suit is a great wise investment.
: Are Bespoke Suits Worth it ?
: You Bet they are worth it! At Germanicos we build our Bespoke handmade suits the same way they were built 100 years ago. A proper Bespoke suit will look just as new in 10 years as it does in 10 weeks. Bespoke Suits are constructed by hand, using floating Canvas, meaning they will never lose their shape. So if you divide the cost up by the amount of times you will wear it over the 10 years, it may well be lower cost than the cheap fused off the rack suit.
: Do you make Bespoke suits for Ladies ?
: Yes of course we can make suits for Women, we are bespoke tailors after all. We have dressed many famous ladies, and have even been featured on MTV Style with Ruby Rose, whom we made a sexy black herringbone fitted suit which looked Amazing and she loved it!
: Do you make Bespoke Suits for fat guys ?
: We can make Bespoke Suits for any body shape whatsoever, better still we have the same price for everyone. No fat tax at Germanicos, be weary of the others if you are a little bigger.
: Can you make suits for the Disabled ?
: We have made so many suits for the disabled in the past. Whether you are in a wheelchair, or bed ridden, we have the experience to make you a suit. For your ease Germanicos offers a travelling tailor service where the tailor can come to your home to measure and design your suit. Rest assured you are in capable hands and have big experience with disabled suits.