When it comes to that special day, a groom's attire is just as important as the bride's. And for the discerning groom in Sydney, the premier destination for the perfect bespoke wedding tuxedo is Germanicos Bespoke Tailors, located on the prestigious Pitt Street.
At Germanicos, we understand that a wedding tuxedo is not just a suit but a reflection of one's personal style and taste. That's why we offer a wide range of fabrics from the top fabric mills in the world such as Dormeuil, Cerruti, Holland & Sherry and more. Our fabric selection includes traditional wool, luxurious silk, and high-performance technical fabrics, allowing you to choose the perfect material for your tuxedo.
Our wedding tuxedos are crafted by highly skilled tailors who are dedicated to producing garments of the highest quality. The process begins with a personal consultation, where our tailors will take your measurements and discuss your desired style, fit, and fabric preferences. We'll make any necessary adjustments to ensure the perfect fit, and you can choose from a variety of customization options such as monogramming and special lining.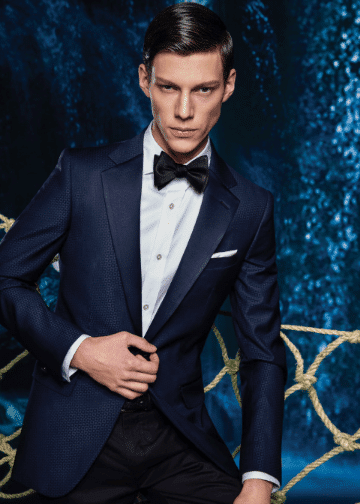 But what sets Germanicos Bespoke Tailor apart from the rest is the ability to customize even the smallest details of your wedding tuxedo. The collars and trimmings of pockets of the tuxedo can be made of Dutchess satin, silk, grosgrain or many other fabrics, that's the beauty about bespoke, it's bespoken for you!
Germanicos Bespoke Tailors is the premier destination for bespoke wedding tuxedos in Sydney, offering the perfect blend of luxury, craftsmanship, and personalization. Whether you're the groom, best man, or a guest, our tuxedos will make you stand out on the special day. Visit us on Pitt Street, Sydney and experience the luxury of bespoke tailoring for yourself.