Business Suits
How often have you stared at your wardrobe and cringed with what you're just about to put on, knowing it's not serving you any purpose or doing you any justice ?
It's time to take pride in your wardrobe and in particular your daily business attire.
Our business suits are not only designed to be worn, but designed to be worn confidently and withstand the test of time, all while being as comfortable as your tracksuit with the perfect fit we're able to achieve through our bespoke process. After all, greatness didn't come about by only working 9am to 5pm.
We've done the hard work for you when it comes to business suits. Not only have we put our fabrics through the ringer, we've come up with a range of fabrics that are specially selected to stand up to a 15 hour day and weekly wear, which will also look just as good at the end of the day as they did at the start of the day.
Read more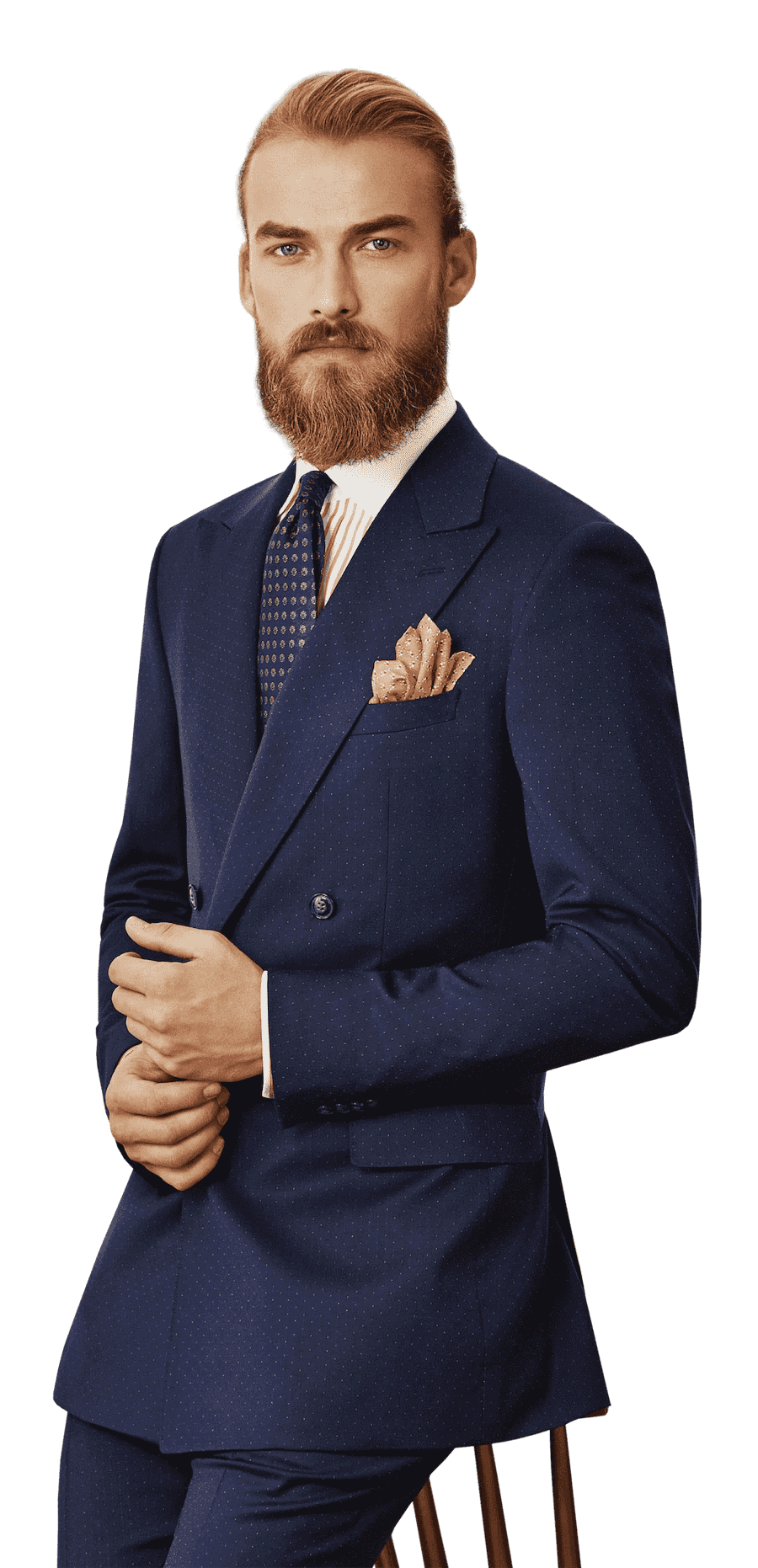 There is a lot of science and research that our tailors and stylist go into with the selection of your fabric and colour combinations, that all assist with your influence and persuasion without you even having to say a word. You'll command it as soon as people spot you in varying degrees based on what's selected.
From mohair to worsted wool, to Nano waterproof technology, to classic navy to heavy chalk stripes, we're sure to have a fabric just right for you.
With a very breathable, well-structured and elegantly tailored business suit that fits to perfection, you'll be setting a new standard when you return to your office, looking pristine and polished, raring to go.
It's this versatility along with proper styling advice from our in house stylist, together with true craftsmanship by our master tailors that put so much pride into their work, all to make sure your bespoke business suit serves you like no other.
That's the day you'll be proud standing in front of your wardrobe feeling very satisfied that you're armed and dangerous.
Be ready for the compliments to roll in and the opportunities to present themselves, as you build confidence within yourself with your suit of tailored influence, others in turn will build confidence within you.
Be bold, raise your standards by the way you dress and in turn watch your standards raise you.
Book your appointment today and stop the cringing.
FAQ Your Right To Know!
Got a question? Get your answer!
: Where to buy Female Bespoke Business Suits?
: Germanicos is a Bespoke Tailor, so Yes of Course we can make bespoke business suits for Females as well
: What Colour are Business Suits?
: Generally Business Suits are Navy Blue, Grey & Black. The Power dressing colour is definitely Navy Blue and you will notice Some of the most Powerful People in the world always in a Navy Blue Suit. Like Vladimir Putin, or Barack Obama and Donald Trump. A colour you shouldn't wear for business suits is Brown, as it will portray weakness.
: Are business suits Tax deductable?
: A business suit or shirt in Australia is only tax deductable, if the suit or shirt has a company embroidery on it. We can assist you to make a wise decision in regards to a certain style of bespoke suit where it could be tax deductable.
: Should you buy two pairs of trousers with a Business Suit?
: As it is a business suit, this garment will be worn quite frequently. If you go the bespoke route the Jacket will never lose its shape. Therefore to double the longevity of your bespoke suit, we highly recommend to order a second trouser with your bespoke business suit. Ask your Germanicos consultant for a what discount they can offer on your second trouser.